Shari Puorto Band
welcomes Grammy award & Emmy award nominee Doug Woolverton (bio below)
to her heavy hitter band on bass and trumpet!
Shari Puorto Band is a Roots/Rock/Blues Band with a whole lotta soul who have been touring together for many years. Their combination of modern blues, Roots/Rock, and Funk grooves will turn your head as it does everyone. At first, it's unexpected then they have you in their trance and there's no turning back! Don't just take it just from us, hear what others are saying:
Professor Johnny P's Juke Joint: "Let me say this as plainly as I can. I think that Shari Puorto could be the next big breakout singer. She's got all the tools – a great voice, a top notch band, and superb writing skills. This latest album, Live At Bogies, shows that she can work a crowd extremely well and her song selection is quite moving." 
"Shari's a road warrior touring non-stop across the USA and now, after some fine studio releases, those of us unlucky enough not to see her perform live can get a taste of the Shari Puorto live experience in full flight on a fantastic live album. Ms Puorto is a fabulous singer, right up there with Bonnie Bramlett in my pantheon of soulful blues singers and backed by a great band this record shows just how good she is." Stuart Hamilton, Blues Matters! & The Rocker, UK 
Puorto, is a dynamo packing a huge vocal punch combined with a high energy stage performance. There is a running debate as to whether she's more similar to Janis Joplin or Etta James. My money is on a mashup of the two. She has the stage presence of Joplin, but with vocals more similar to James." Scott Cunningham, Oregon Music News 
Their connection with the audience and their performance onstage is compelling. With notable nominations and awards under their belt they continue to electrify audiences from Coast to Coast and abroad. Shari and her band's energy draws you in and allows you to escape and enjoy being in the moment. They know how to put on a show and cater to each and every audience. Shari's well-written original songs blended with just the right mix of obscure covers are also what makes this band and Shari so unique.
Shari Puorto and her band (SPB) have 5 releases to-date with the most recent two being, Live at Bogie's and My Obsession. 'Live at Bogie's' took home the WIN for Best Live Release at the LA Music Critic Awards. 'My Obsession' received first round nomination by the Grammy committee in the Americana genre in 3 categories. Shari's music has charted and appeared on the RMR Music Reports Top 50 in the following categories: Top 50 Blues Album, Top 50 Blues Contemporary Album, Blues Song: Home of the Blues & Sugar Daddy, Top 50 California Song Chart (Home of the Blues), Contemporary Blues Song (MY Obsession), Top 50 California Album. Shari's music has been getting International and National airplay airing on over 200 Radio stations across the US and abroad.
Shari Puorto Band has performed up and down the coast of California, across the U.S., and abroad (from large festivals to Blues Clubs to local hangouts). Past appearances range from, headlining at the Phuket Blues Rock Festival (Thailand), San Giacomo, Italy For A Two-Night Show called, Evening Of The Blues, Fiji Int'l Jazz/Blues Festival, Doheny Blues Festival, Waterfront Blues Festival, Headlined: NA Blues Festival, Headlined: Water Springs Blues Festival in Las Vegas, Gator by the Bay in San Diego, Crawdaddy Blues Festival & The Animas Blues Festival in New Mexico, Beaver Creek Blues/BBQ fest, NAMM show Anaheim, Irvine Lake Blues Festival, OC Fair (So Cal.), Lexus Jazz/Blues Festival, Antelope Valley Fairgrounds, Las Vegas Bike Fest opening for Kansas, Long Beach Bayou Festival, King Biscuit Blues Fest (Helena Arkansas), Biscuit & Blues / San Francisco, TheTorch Club (Sacramento), Little Bear (Evergreen, CO), Knuckleheads (Kansas City), Cafe Boogaloo/Hermosa Bch, Harvelle's/Santa Monica, Powerhouse Pub / Folsom, CA, to name a few.
Band Bio's
Doug Woolverton - Trumpet & Bass (when not on tour) - Grammy Nominee 2019 for Victor Wainwright & the Train, Best Contemporary Blues Album.When it comes to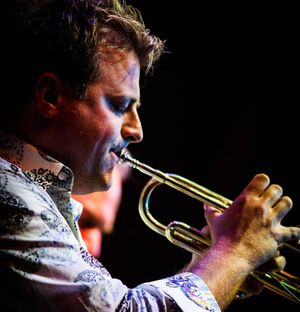 Doug Woolverton, everyone wants to know how he creates his tone, how he is able to get them off their feet! Whether you are in awe, or amazement; you will wonder how this single trumpeter will move you in a way you never expected. Yeah, he's that good; and good natured too! When you see him, you'll see and hear his secret weapon. It's so secret, we can't tell you here!

Professional musician, composer, and band leader, Doug Woolverton, has been cultivating his smooth, soulful, yet energetic trumpet sound for audiences around the world becoming one of the most in demand, versatile trumpeters of his generation. Hailing from Northern State University (Aberdeen SD) receiving a Bachelor of Arts in Trumpet performance, Doug honed in on his skills of soulful soloing, songwriting, recording, and arranging. His mentor and trumpet teacher, Dr. Grant Manhart, helped focus Doug's sound and beautiful tone which has led to his full time career performing over 280 shows around the world each year. He's in high demand! You may see him performing with his own band, the Groove Merchants, or alongside artists such: Aretha Franklin, Warren Haynes, Gov't Mule, John Scofield, Roomful of Blues, They Might Be Giants, The Temptations, Little Anthony and the Imperials, Donnie, Dacus, Jerry Jemmott, Bernard Purdie, Delbert McClinton, Victor Wainwright, Shemekia Copeland, Samantha Fish, James Cotton, Tab Benoit, Tony Coleman, Jim Pugh, J. Geils, Johnny Vidacovich, John Herrington, Shari Puorto, Carl Fischer, Curt Ramm, Kenni Holmen, Duke Robillard, Jimmy Haslip, Eric Bloom, & other notable artists.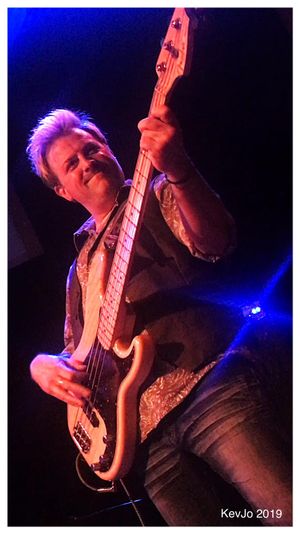 Eugene Gorsky - Guitar
Eugene was born and raised in the small town of Nikolaev, Ukraine. He began studying guitr at the age of 16 garnering musical inspiration from the likes of B.B. King, Eric Clapton, Gary Moore, and Joe Satriani. with roots in blues and rock music, his career has taken him on tours around the US, Ukraine, Poland, and Russia. He's also gotten the opportunity to share the stage with artists like, Robben Ford, Stu Hamm, Jonathan Mover, "the Animals' and "Nazereth. You will also see Eugene touring with the Shari Puorto Band!
---
Mike Sauer - Drums
Originally from Albuquerque, Mike Sauer studied percussion at the University of New Mexico and then moved to Los Angeles to attend the Musicians Institute in Hollywood.  Graduating with Vocational Honors and receiving the Award for "Outstanding Stylist - All Styles," he toured the U.S. drumming for the Bentley Bros. Circus.  Returning to Los Angeles, he joined J.J. "Bad Boy" Jones and was featured in Los Angeles Magazine as LA's Best Blues. 

Mike has performed with or recorded for artists including Mick Jagger, Keb' Mo, Edgar Synigal (Music Director for B.B. King), The Royal Crown Review, Will Ray (The Hellecasters), Jimmy Rip (Mariah Carey, Mick Jagger), and Todd Nichols (Toad the Wet Sprocket).

During his four years as the Music Librarian for The Tonight Show With Jay Leno, Mike had the good fortune to work directly with many incredible musicians including Herbie Hancock, Bonnie Raitt, Dave Koz, Steve Vai, Joe Satriani, Rickey Minor, Paul Jackson Jr., and Nathan East. Since 2013, Mike has been performing and touring with the Shari Puorto Band.